Individual - Tours
Berlin / Potsdam
Airport - Hotel
Transfers
Chauffeur - on - demand
Services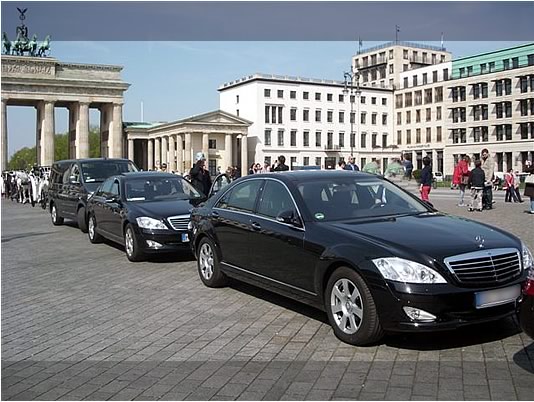 The above individual services are for individual travellers as well as for groups of up to 8 pax.

Standard languages are German and English, but we also offer tours in Spanish and Portuguese.
WELCOME TO BET - BERLIN EVENTS & TOURS CHAUFFEUR SERVICES
Luxury Tours, Transfers and Business Travel.
At BET BERLIN EVENTS & TOURS we cater to business and private travellers that demand efficient, friendly and safe car services.
Our personalized limousine service covers all Berlin areas and other cities such as Potsdam, Dresden and Leipzig.
Individual Tours
- 3 hs
1 - 3 pax
195 €, additional hour: 65 €
4 - 8 pax
250 €, add. hour: 80 €
Airport - Hotel / Hotel-Airport Services
TXL / THF
Service from / to SXF Airport
+ 20 €
Chauffeur - on - demand Service
- 3 hs
1 - 3 pax
130 €, add. hour: 45 €
4 - 8 pax
160 €, add. hour: 55 €

Our specialities are tours to other cities which are in short driving distance from Berlin:
TRANSFERS
BERLIN EVENTS & TOURS provides luxury vehicles for transfers from and to all of the airports serving Berlin as well as several regional airports.
Our chauffeur-driven sedans, limousines and passenger vans are always in immaculate condition; our experienced chauffeurs are carefully chosen for their driving skills and excellent knowledge of Berlin's traffic situation.
TOURS
Discover Berlin in depth, seeing all the major sights of the city along with 'off the beaten track touring', visiting many hidden treasures not normally on the tourist trail.
Let us help you discover real Berlin
Potsdam
driving time: 1 h each way / total tour time: 4 hs
Dresden
driving time: 2 hs each way / total tour time: 7 hs
Dessau
individual tour to the Bauhaus Museum / total tour time: 6hs
Transfer to Prague,
incl. a 2-hour visit to Dresden / total transfer time: 7hs
This can be either Prague –– Berlin or Berlin – Prague.
We are proud to offer you as well Full Day Roundtrips from the Baltic Cruise Liners to visit Berlin (total: 12 hs)